Istella Platform
A state of the art suite of semantic and machine learning algorithms and components for Big Data analysis.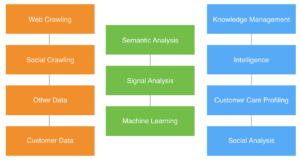 Istella has a long experience in the field of Knowledge Management and Information Retrieval applied to massive amount of data.
Istella owns one of the most advanced search engines currently available in Europe:  our platform crawls, analyzes, enriches and indexes over 6 billion Web documents, as well as hundreds of millions of multimedia content (images and videos), news and social networks interactions.
Istella leverages on one of the largest Big Data hardware infrastructure in Europe, consisting of 350 dedicated servers, 20,000 cores, 200 terabytes of RAM and 2 Petabytes of disk space. Within the Istella Platform, web pages are indexed and categorized in a taxonomy of 500 categories and more than 400 signals are associated to each page (Pagerank, incoming links, popularity, etc.).
The Istella Platform includes state-of-the-art proprietary components for efficient large scale crawling, social network analysis and content retrieval.
The Istella Platform also includes a structured, updated and comprehensive knowledge base, the Istella Knowledge Graph. The Istella Knowledge Graph consists of billions of arcs which represent relationships and properties on persons, places, companies, etc.